Thu, 11/14/2013 - 08:26
'French answer to Playboy' makes heady comeback
A new men's magazine with a distinctly macho flavour has hit the newsstands here in France.
The monthly Lui
is in fact the phoenix-like resurrection of a title which had its heyday in the 1960s and 1970s.
The French answer to Playboy, Lui regularly featured topless (or bottomless) women on the cover
. Hit by declining sales, it stopped publishing in 1994, before making a short-lived comeback as a pornographic magazine in the 2000s.
Fast-forward to 2013 and the new editor-in-chief of Lui is the writer and literary critic Frédéric Beigbeder, perhaps best known for writing and directing the book and film
"L'amour dure trois ans"
. Also in charge of running the men's magazine is… a woman, Yseult Williams, formerly of women's mag Grazia.
Lui does have interesting features, interviews - and stacks of expensive adverts.
But as Beigbeder explains in his first editorial
, the magazine is a tribute to the "dinosaur called the Lad, the one with the lame chat-up lines". Beigbeder adds that the best nickname for his future readers is "connard d'hétérosexuel", which is best translated as "heterosexual jerk". For example, Lui gives men advice on expensive gifts to buy for their girlfriend when they have committed a misdemeanor.
Oh, and Beigbeder is one of the 343 "bastards" who recently signed a controversial "Hands off my whore" petition
against a forthcoming bill that would criminalise paying for sex. (
The bill is in itself controversial, but that's another story
).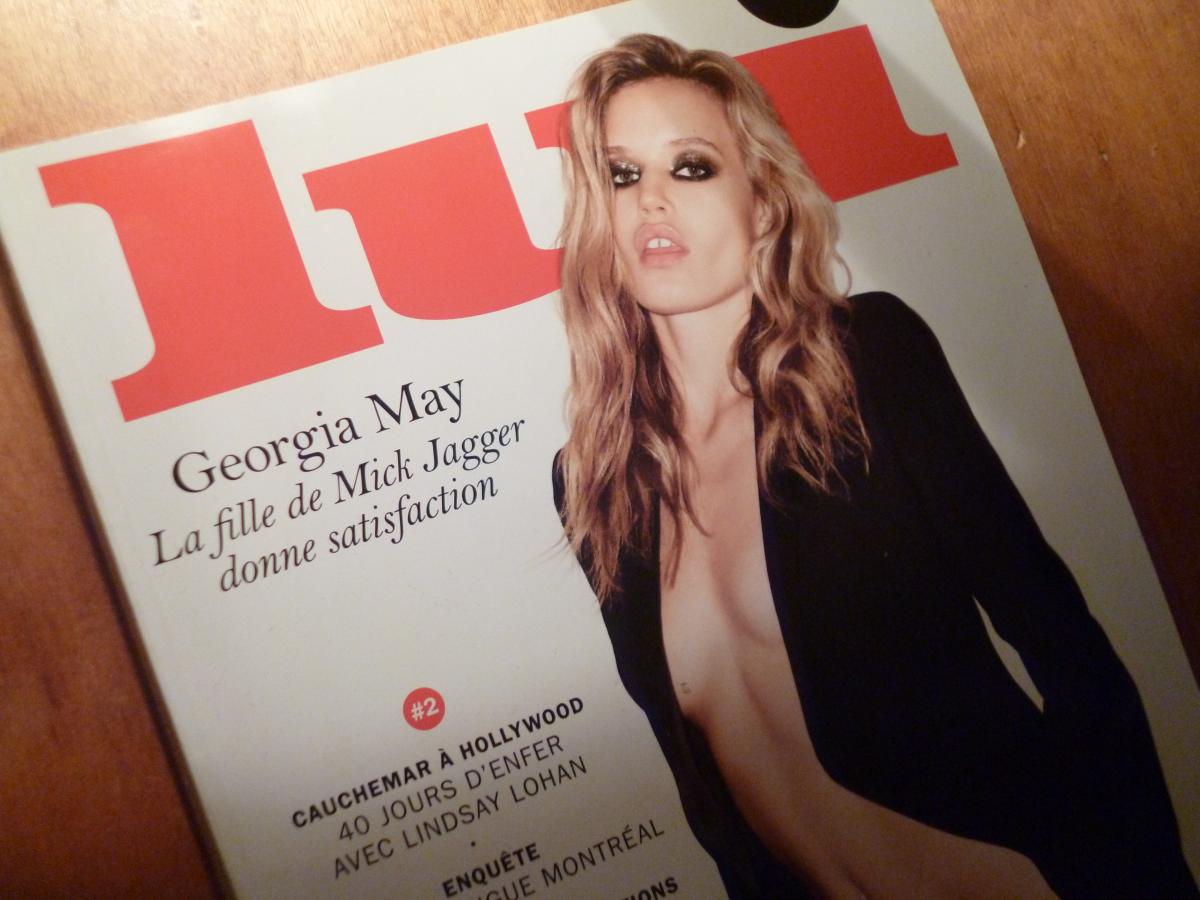 The second issue of Lui features one of Mick Jagger's daughters, Georgia May, who is a model. Photo: Caroline Clarkson.
In short, it's no surprise that Lui's covers are still provocative: the first issue showed "Blue Is the Warmest Colour" star Léa Seydoux wearing nothing but a blue veil, the second IT girl Georgia May Jagger in just a blazer and tiny pants. Inside, there are countless pages of women in various states of undress, albeit tastefully photographed for the most part.
The macho recipe of Lui is proving successful. All 350,000 copies of the first issue were sold out in the space of one week; the magazine had to go back to the printer's.
More surprisingly, managing editor Williams claims that 35% of the first batch of readers were women
, making Lui a "transgender magazine".
Nevertheless, there is something shocking about this magazine - and its scantily-clad women - being promoted on billboards in front of vulnerable children and teenagers. As if that were not enough, the latest issue of the French edition of GQ (Lui's main competitor) is perhaps equally shocking with its cover story: "Sex, lies and social networks: the art of being unfaithful (while still being a nice guy)". Apparently they didn't detect an oxymoron in there.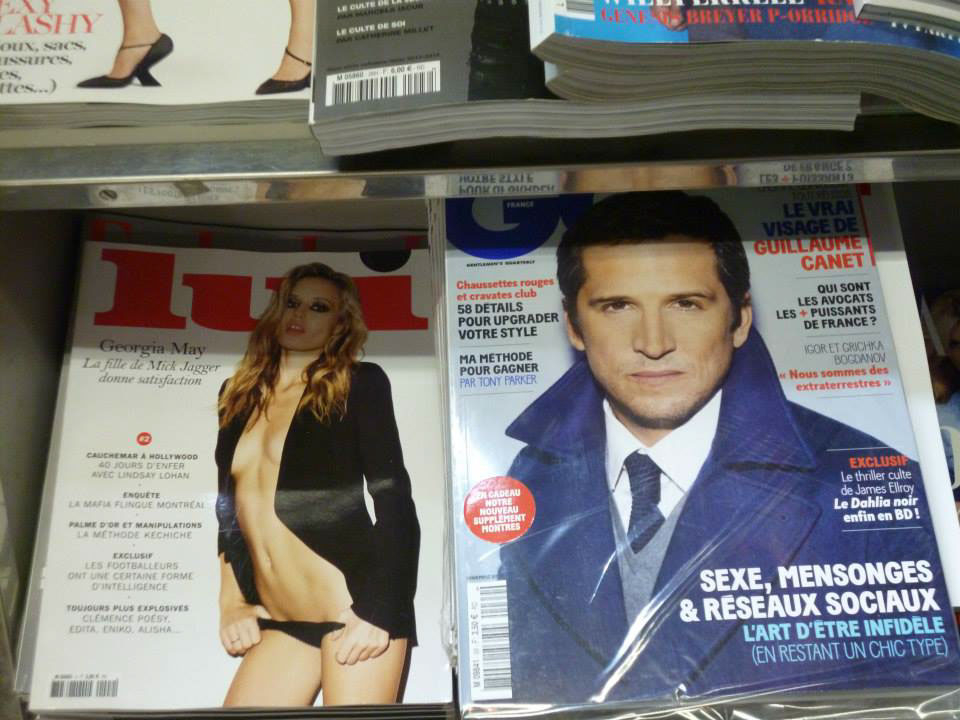 Lui and its competitor, the French version of GQ, at a newsstand. Photo: Caroline Clarkson.
All this appears a far cry from the situation in the UK. Across the Channel, there is an ongoing backlash against the objectification of women. First came the
"No More Page 3" campaign
, aimed specifically at persuading the editor of The Sun to remove the topless women from his tabloid. The campaign has built up a significant media presence and has won cross-party support.
More recently, a campaign to stop retailers selling so-called "lads' magazines" (
"Lose the Lads' Mags"
) has notched up several successes.
Supermarket chain Co-op decided to stop selling the magazines Nuts and Zoo
after their publishers refused to put them into sealed "modesty bags", while larger chain
Tesco extracted a promise from the same magazines to produce "more modest" covers in future
. Tesco also says it will now only sell the magazines to over-18s. Last but by no means least,
a UK-based campaign to introduce cinema-style ratings on raunchy music videos
(such as recent offerings by Miley Cyrus or Robin Thicke) has just got off the ground.
Still, there is some reason for feminists to be cheerful back in France.
Another men's magazine has just launched here, called Elle Man
. The male equivalent of Elle magazine,
it features no scantily-clad women and is clearly targeted at bona fide "nice guys"
.
Amen to that.
Tags for all blogs :
Comments or opinions expressed on this blog are those of the individual contributors only, and do not necessarily represent the views of FRANCE 24. The content on this blog is provided on an "as-is" basis. FRANCE 24 is not liable for any damages whatsoever arising out of the content or use of this blog.