Wed, 10/28/2015 - 16:31
Coffee from South Sudan – where else?
It's rare to hear good news out of
South Sudan
. The world's youngest country gained independence from Sudan in 2011 after more than two decades of civil war, but has been mired in civil conflict itself since December 2013. Tens of thousands of people have been killed and fighting continues despite the signature of a peace deal back in August.
This month, though, there is some brighter news. For the first time, espresso from South Sudan is reaching international markets,
as part of an ambitious plan by Swiss coffee giant Nespresso to revive the country's coffee industry, decimated by decades of conflict
.
The initiative has been spearheaded by US actor George Clooney, who appears in Nespresso's adverts and has long been an advocate for South Sudan. He launched the plan back in July 2013, just five months before the civil war broke out. Despite security concerns slowing down the project,
Nespresso, with the help of US non-profit firm TechnoServe
, has managed to harvest ten tons of coffee from the south-western Yei region, which has so far not been affected by the fighting.
Nespresso video explaining the South Sudan project, narrated by George Clooney.
As a result, for the month of October only, Nespresso is selling a limited edition coffee capsule from South Sudan, available only to customers here in France. A recent convert to Nespresso myself, I decided to test it out.
"Suluja ti South Sudan", which means "Beginning of South Sudan" in the local Kakwa language, costs eight euros for ten capsules, twice the price of ordinary Nespresso capsules. But it is worth every cent. I tried it this morning and although I am no expert, I can say that it was delicious: smooth, easy to drink and clearly a cut above your average espresso, even here in France.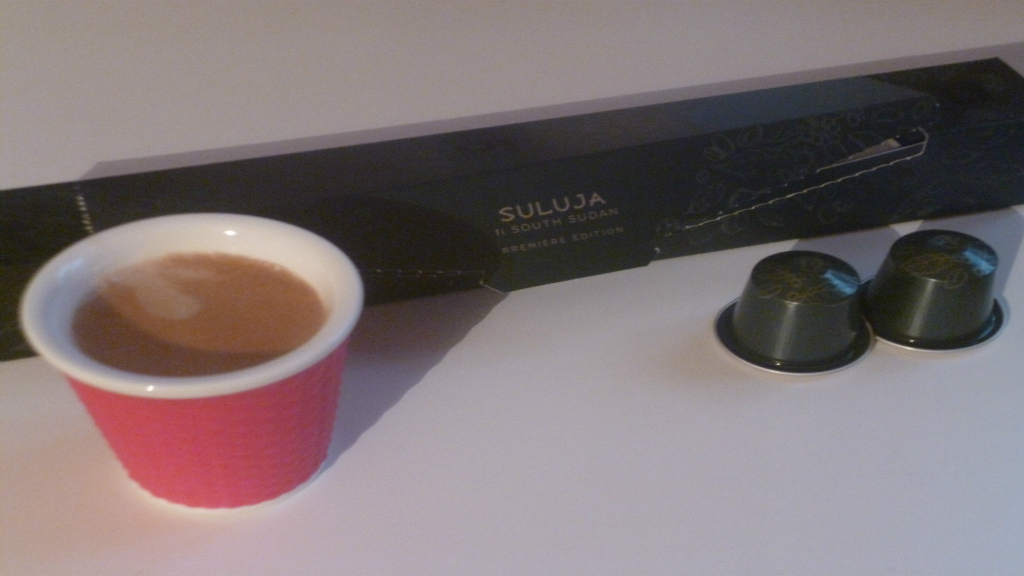 "Suluja ti South Sudan" is only available in France until the end of October. Photo: Caroline Clarkson
Nespresso is cautiously optimistic about the project. "This is the beginning of something not the end, but it has the potential to grow", Daniel Weston, a Nespresso director, told French news agency AFP. In the long term, if peace can prevail, coffee exports could help diversify South Sudan's oil-dependent economy, which has been hit hard by the fall in global oil prices.
Earlier this month, the head of the International Coffee Organization
announced that world coffee consumption has almost doubled over the past 20 years and will continue to rise
, partly due to population growth and partly thanks to demand from "new" coffee-drinking countries like China and Russia.
As George Clooney said himself when he launched the South Sudan project: "There is a real opportunity here".
Tags for all blogs :
Comments or opinions expressed on this blog are those of the individual contributors only, and do not necessarily represent the views of FRANCE 24. The content on this blog is provided on an "as-is" basis. FRANCE 24 is not liable for any damages whatsoever arising out of the content or use of this blog.