Mon, 10/20/2014 - 13:25
5 things you didn't know about life at the Elysée palace
This week, the magazine of French newspaper Le Monde features
an exclusive behind-the-scenes report at the Elysée presidential palace
. For a whole week, a journalist and photographer were given access to President François Hollande and his staff – a rare glimpse into life behind the gilded palace gates.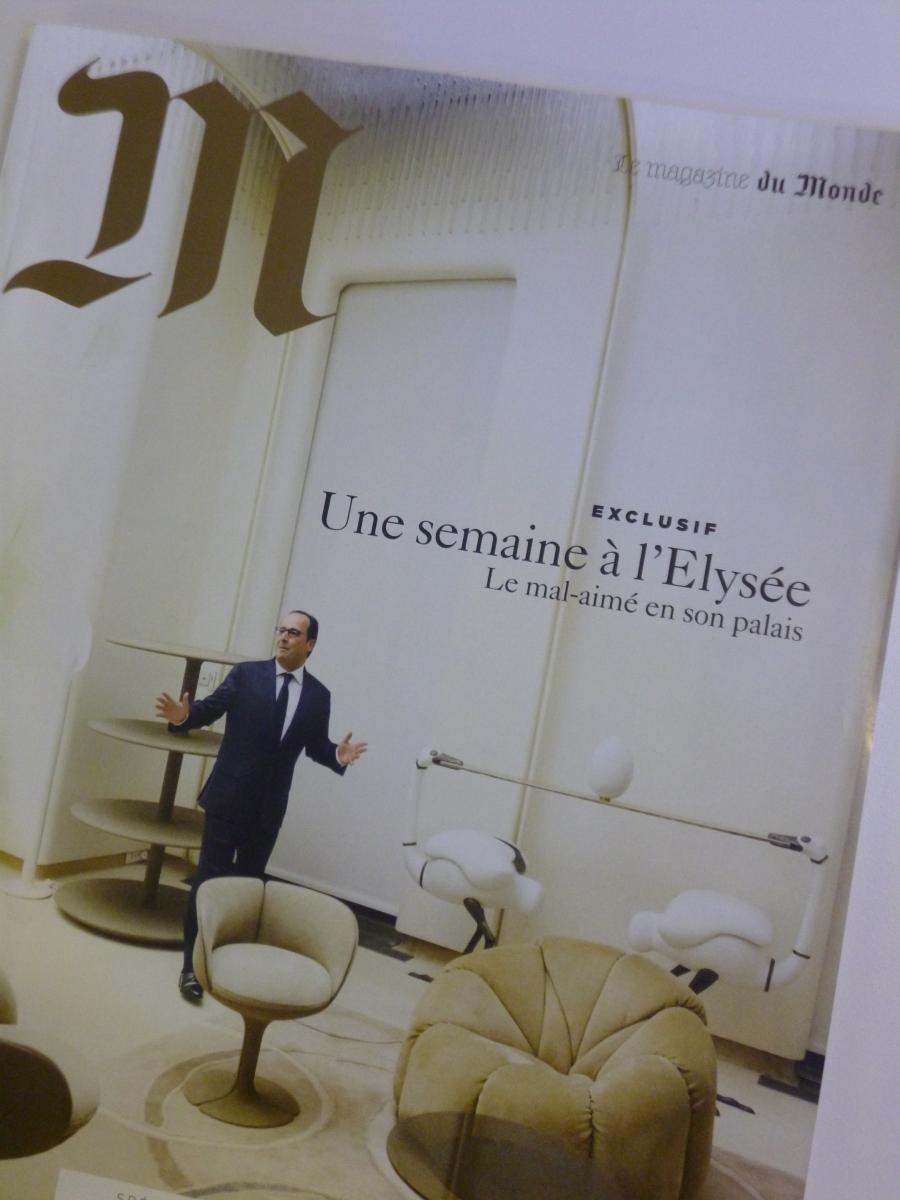 The cover of this week's magazine of French newspaper Le Monde. The headline reads: "A week at the Elysée: The unpopular one in his palace". Photo © Caroline Clarkson.
There is no doubt that the exercise is partly a publicity stunt on the part of Hollande, although it was the newspaper's idea. As the
journalist Vanessa Schneider
muses in her introduction, the president seems to feel he has little left to lose, with constant bad news on the economic front and his popularity records already stuck at rock-bottom. The report contains no earth-shattering revelations, but is peppered with interesting anecdotes about life at the presidential palace - referred to as
le Château
(the Castle) - and about Hollande himself. Here are some highlights.
1. Valérie T. is She-Who-Must-Not-Be-Named
We learn that the
tell-all book by Hollande's jilted ex-partner Valérie Trierweiler
, perhaps understandably, has affected him more than anything else in the past few months. The best-seller paints an unflattering picture of Hollande, whose affair with actress Julie Gayet led to Trierweiler being kicked out of the Elysée palace. According to one aide, the former first lady's book represented a "huge shock" for Hollande, who "really was not expecting it". Trierweiler, whose name is no longer to be mentioned in the corridors of power, is now considered by Hollande's cabinet as "a grenade with the pin pulled out". But for how long? Some at the Elysée are concerned that she could publish a sequel to the ironically titled "Merci pour ce moment" (Thank you for this moment). "She is capable of anything", says one close associate.
2. The bosses are back in town
Although some on the right would dispute that Hollande's Socialist government is sufficiently business-friendly, the journalist witnesses a delegation of no less than 300 company bosses receive a very warm welcome at the Elysée. One influential CEO from the world of finance, Marc Ladreit de Lacharrière, who is an old friend of Hollande's, greets both the new Economy Minister Emmanuel Macron and Hollande's chief of staff, Jean-Pierre Jouyet, with a friendly hug. Hollande's much-quoted line during his election campaign,
"My adversary is the world of finance"
, appears to be just that: a line during his election campaign. We also get confirmation - not that any was required, given Hollande's chaotic love life - that another of his campaign promises, that of being a "normal president", was wholly unrealistic. "Normality", when you are president, is "exceptional", Hollande himself admits. "Being president means taking on the exceptional".
3. Hollande's coping strategy
The president is often criticised for being too placid and optimistic, despite France's economic situation being despairingly grim (unemployment is stuck at over 10% and growth is non-existent). Some would perhaps prefer a more Churchillian approach. In the report, Hollande insists that he closely follows the news and is "totally lucid" about the reality of the country he is ruling. However, he says, "I make sure I never appear upset by events". The president seems to think he needs to keep his cool, even in extreme circumstances, "if only for [the sake of] those" who work with him. At the same time, he denies he has a "coat of armour", in other words that he is artificially removed from events. If we are to believe him, he simply has a thick skin, like any politician worth their salt.
4. What ministers complain about
The cabinet only meets once a week and the ministers rarely see each other outside the Wednesday meeting at the Elysée. Before going in, they have to put their mobile phones into little burgundy drawers with their names on them, no doubt to avoid being distracted from affairs of state. Most of the ministers know each other well. While waiting for Hollande and Prime Minister Manuel Valls to arrive, they chat about their current problems. "My ministry is being refurbished", sighs one of them. "Mine is a disaster, the floor is practically falling through", moans another. We also learn that Ségolène Royal, who is environment minister but also Hollande's ex-partner and the mother of his four children, has special status within the cabinet. Royal is popular and experienced, and
le Château
is clearly hoping she can help improve the government's image.
5. The president has his own cinema
In the basement of the Elysée, there is a small cinema, built in the 1970s with floor-to-ceiling yellow carpeting. Hollande invites the cast and crew from the film "
Hippocrate
" to a private showing here, followed by a cocktail. Afterwards, the president shows some of his guests around the palace – first the library, then a windowless sitting room designed in the 1970s with out-of-place modern furniture (pictured on the front cover of the magazine). Finally, they enter a smaller room, where Napoleon signed his letter of abdication and
President Félix Faure drew his last breath
. Suddenly, Hollande turns on his heels: "This room is cursed!" It is not surprising he does not want to linger there.
Tags for all blogs :
Comments or opinions expressed on this blog are those of the individual contributors only, and do not necessarily represent the views of FRANCE 24. The content on this blog is provided on an "as-is" basis. FRANCE 24 is not liable for any damages whatsoever arising out of the content or use of this blog.