Fri, 08/10/2012 - 10:47
Pets abandoned in their thousands: the dark side of summer in France
You know it's summer here in France when a) the France 24 newsroom gradually begins to empty, b) the train home is packed with sleepy tourists on their way back from Versailles and c) French animal welfare organisations are desperately trying to dissuade people from abandoning their pets.
According to the animal welfare group 30 millions d'amis (30 million [furry] friends), no less than 60,000 pets are abandoned in France every year during the summer holidays. The Paris-based Société Protectrice des Animaux (Animal Protection Society), which runs shelters nationwide, reckons the figure is even higher: a whopping 100,000 animals abandoned by their owners.
I spoke to Marion Giroud of the Confédération Nationale des SPA de France, which federates its own network of animal shelters nationwide. "People don't think about the constraints" when they buy a pet, she told me in a telephone interview. Although going on holiday would appear to be a pretty obvious one, it only seems to dawn on some pet owners when it's already too late. Seemingly unable to find a kennel, a pet-sitter or to take their pet with them, they then choose to abandon said pet rather than miss out on their vacation. "Some of them phone us up just before their holiday, saying that all the kennels are full", Giroud explains. Although she acknowledges that there are not enough kennels and catteries in France, she points out that pet-sitting services offered by individuals are now easy to find online (one such website is Tendea).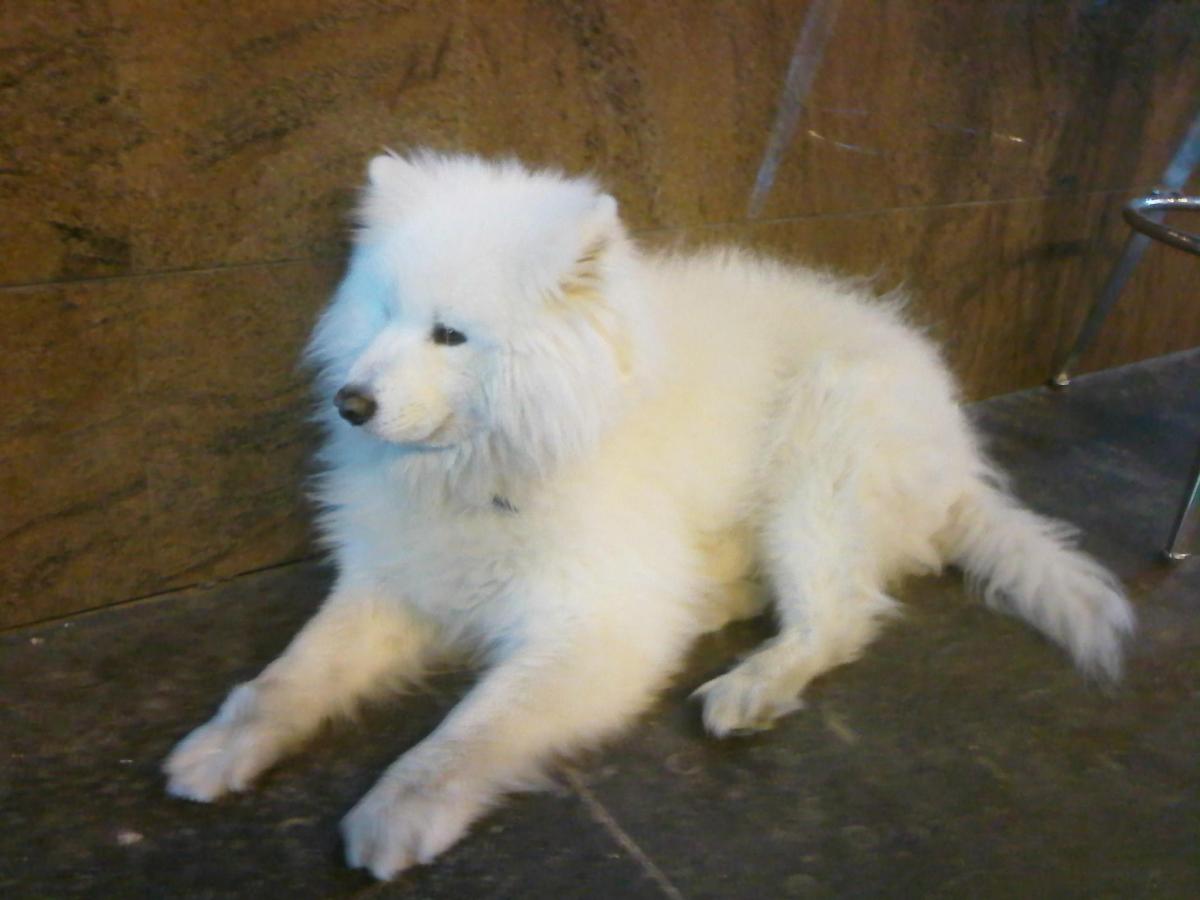 A Samoyed dog. Every year, as many as 100,000 pets are abandoned in France. © Caroline Clarkson
The shocking figure of 100,000 abandonments covers two types of situation: those pets handed over to a shelter by their owners, plus those animals which are unceremoniously dumped and later found. That's right: not all owners go to the trouble of tracking down a shelter for their former furry friend. "We find cats with their ears cut so that they can't be traced by their earmark, dogs tied to trees, and indoor cats dumped in the countryside", Reha Hutin, the head of 30 millions d'amis, told the website of free newspaper 20 Minutes. Hutin adds that these days, even small animals such as gerbils and hamsters are being abandoned.
Let's try to compare these figures with those for the UK, for example. Last year, the RSPCA (Royal Society for the Prevention of Cruelty to Animals), received 28,000 calls from the public about abandoned animals. But this figure does not take into account those pets handed over to shelters by their owners. This is because the RSPCA takes in animals it has rescued; it does not take in unwanted animals like a typical shelter.
Like I say, abandonment is such a problem here in France that animal welfare groups run public awareness campaigns every summer. This year, 30 millions d'amis has chosen the tagline "An animal doesn't cry.... It suffers in silence", as shown just below.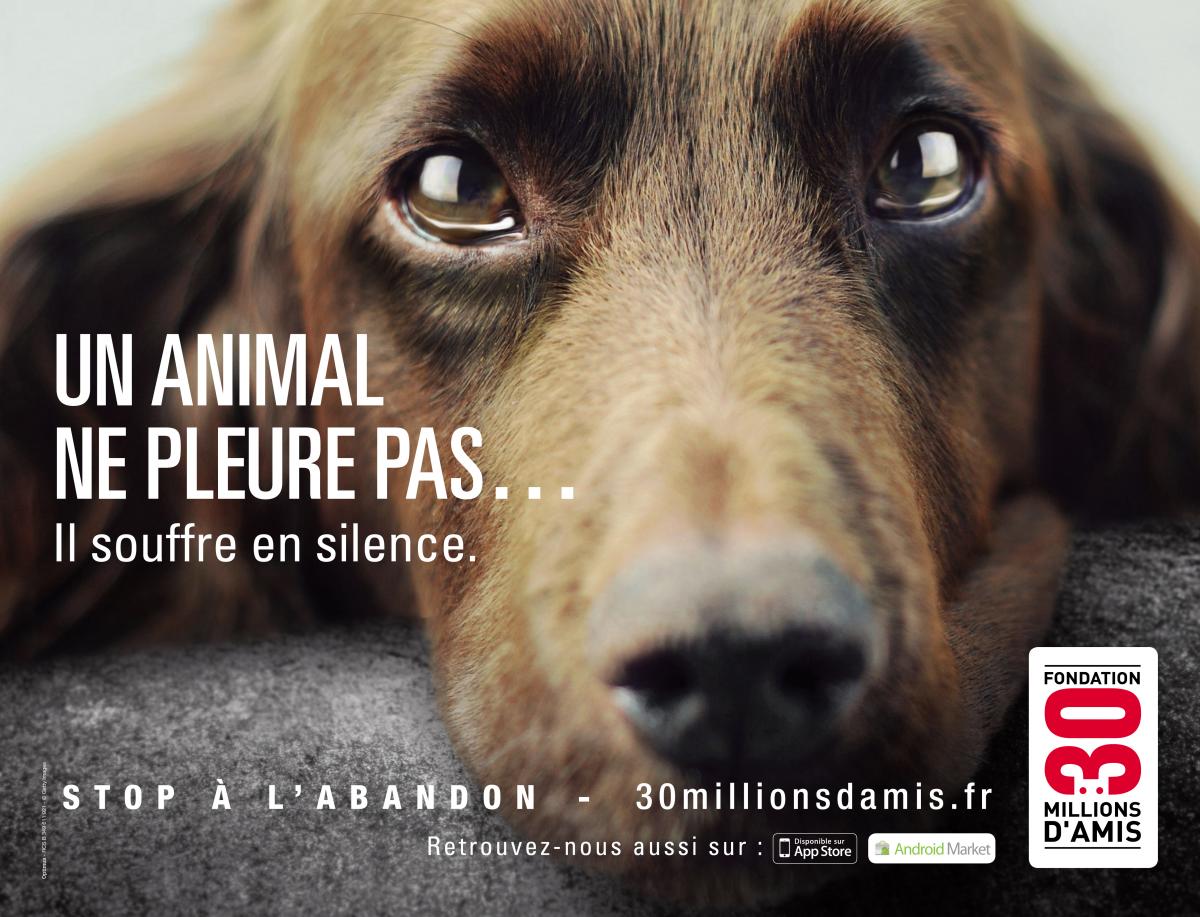 This year's campaign poster by 30 millions d'amis.
So why are the figures still so high despite all these years of campaigning? To try to understand the reasons for abandonment, 30 millions d'amis carried out a survey of shelters back in 2008. The results are enlightening: 9 out of 10 dogs abandoned are large dogs, two thirds of all animals abandoned are adults, and 7 out of 10 dogs abandoned are mongrels. All of which tends to suggest that too many people are (still) falling for that cute puppy or kitten in the window, without thinking ahead about how to care for it.
Marion Giroud confirms this impression. "We live in a consumer society and a pet is often an impulse buy", she says. "It even happens that people who have just bought a pedigree animal - at considerable cost - abandon it at a shelter a few days later, having realised they cannot look after it". Giroud also points out that in Germany, where there are fewer abandonments, dog owners have to pay a tax, which may well be helping to reduce impulse buying.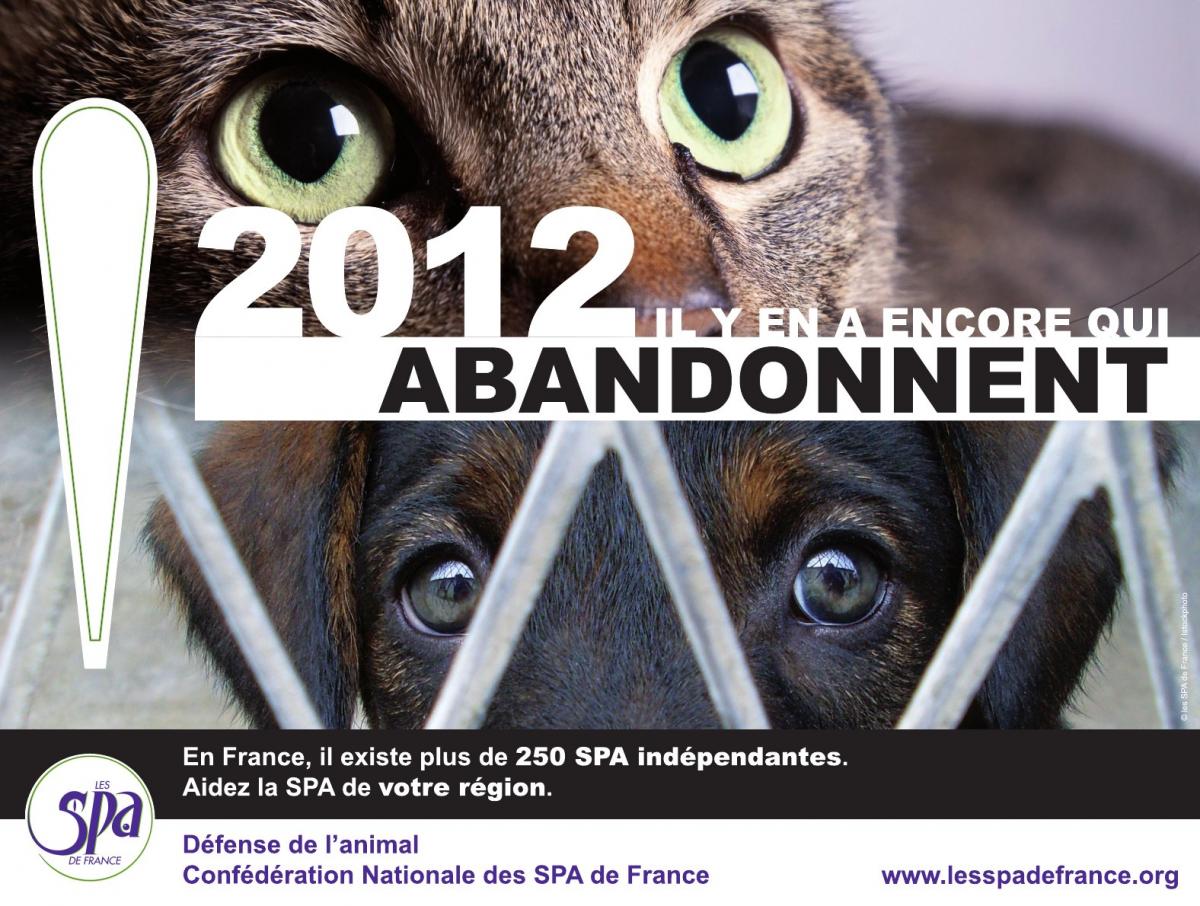 This year's campaign poster by the Confédération Nationale des SPA de France. The slogan reads "[In] 2012, there are still some [people] who abandon".
Despite the depressingly high figures, Giroud claims the annual campaigns have at least convinced more owners to sign their pet over to a shelter, rather than abandon it in the street. This is small comfort, surely, so what more can be done? Giroud calls for two things:
• "Support at the political level" in France. This means changing the legal status of animals (currently, an animal has the status of personal property, not that of a living being). This change is a long-standing demand of French animal welfare groups.

• Tighter regulation of pet shops, and of online pet adverts.
But evidently, more French pet owners still need to understand the basic message behind that simple but effective slogan: "A dog is for life, not just for Christmas". The tagline, coined by the UK's Dogs Trust back in 1978, appears as relevant as ever.
Comments or opinions expressed on this blog are those of the individual contributors only, and do not necessarily represent the views of FRANCE 24. The content on this blog is provided on an "as-is" basis. FRANCE 24 is not liable for any damages whatsoever arising out of the content or use of this blog.