Wed, 05/06/2015 - 13:17
UK election: Will the head of Scottish Labour lose his seat?
This Thursday's general election is the last one I can vote in as a British citizen living abroad (we can do so for up to 15 years). And it is not just any general election. The polls are extremely close, meaning that another hung parliament, where no party wins an outright majority, is likely. And in Scotland, where I call home, the pro-independence Scottish National Party (SNP) appears headed for a landslide victory.
My constituency is
East Renfrewshire
, which mainly takes in a cluster of sleepy, middle-class commuter towns south of Glasgow. My current MP is Labour's Jim Murphy, who is also the leader of Scottish Labour. Murphy, 47, has held this seat since 1997. At the last election in 2010, he was returned with a majority of over 10,000. In other words, like many Labour seats in Scotland, it was previously considered "safe". Prior to 1997, the constituency was actually a "safe" Conservative seat. At the referendum on independence last year, 63% of its residents voted to stay in the United Kingdom. In other words, it is hardly a hotbed of Scottish nationalism.
And yet, a lot seems to have changed since last September. Several polls are
predicting that the Labour MP will lose East Renfrewshire to the SNP
, albeit by a narrow margin. For Murphy to lose his seat - and no doubt the party leadership in Scotland with it - would be a knockout blow for Labour, which has dominated Scottish politics for decades.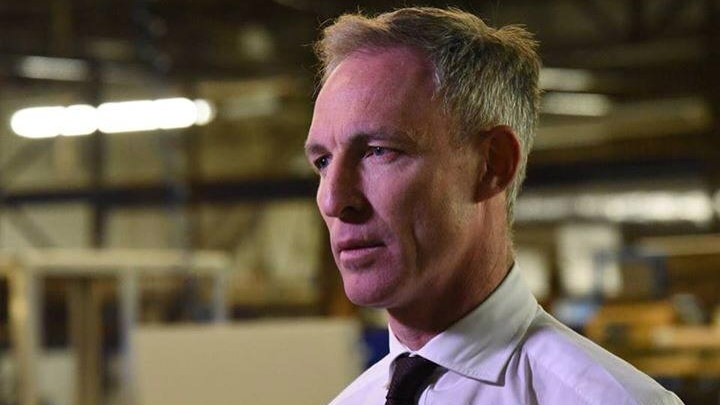 MP and Scottish Labour leader Jim Murphy. Photo posted by Murphy on Facebook.
How is this possible? Much can be put down to the "Sturgeon effect". Nicola Sturgeon, the SNP leader, has a
friendly, unpretentious style which has struck a chord with voters
. She performed well in the televised debates and is now the most popular politician in the whole of the UK. Whereas her predecessor Alex Salmond was a divisive figure, Sturgeon is more charismatic and - perhaps crucially - more consensual.
Sturgeon's popularity, no doubt, largely explains why SNP membership has
shot up 400% since the party lost the independence referendum
just under eight months ago. But it is not the only reason. Despite assurances from Sturgeon herself that the vote was a "once-in-a-generation opportunity", the independence genie appears well and truly out of the bottle. The admittedly close result (55% voted against) has left rumblings of discontent among those who voted "yes". The whole exercise - campaign plus referendum - managed to engage people in politics who were never previously interested, or open a Pandora's box of patriotic sentiment, depending on your point of view.
But let's get back to East Renfrewshire. Why is Murphy, a capable politician who held several cabinet positions when Labour was in power, plus several shadow cabinet posts since then, lagging behind in the polls? Perhaps simply because his party is led by Ed Miliband, who is plagued by image problems and seen by many as lacking the statesmanship to become Prime minister. More crucially, Miliband, despite being unlikely to win an overall majority, has repeatedly ruled out any kind of power-sharing agreement with the SNP. This risky strategy will no doubt irk many potential SNP voters, leading them to conclude that Miliband would rather see the Conservatives remain in power than actually take Scottish voters' wishes into account.
On a more local level, Murphy's campaign has been widely criticised. According to Glasgow newspaper The Herald,
his initial strategy was to woo the voters who had voted "yes" in the independence referendum
. But Murphy is a staunch supporter of the Union and campaigned loudly for it on a tour of Scotland last year, only stopping briefly when he was pelted with eggs by "yes" supporters. He has now changed tack, reverting to an anti-SNP campaign where he insists that Sturgeon is planning to call a second referendum if her party's candidates do well on Thursday. (Pressed during a recent TV debate, Sturgeon refused to rule out another referendum within the next five or six years). "When is "once-in-a generation" not once-in-a generation?" asks the video below, put together by Scottish Labour.
Video posted on YouTube by Scottish Labour.
This shift has not gone unnoticed. On Monday, Murphy, accompanied by comedian Eddie Izzard, had to abandon a campaign rally in central Glasgow
after he was confronted by angry pro-independence activists
. Sturgeon strongly denied the SNP had anything to do with the ambush, which must have had a feeling of déjà vu for Murphy after last year's incidents.
What about Murphy's SNP opponent? Despite being a political novice,
42-year-old Kirsten Oswald
appears to be running a savvy campaign in East Renfrewshire. While her posts on Facebook attract encouraging comments from voters, Murphy's mainly seem to draw insults.
Despite all this, I believe Murphy could still - only just - hold on to his seat. But Labour is certainly headed for a bad night on Thursday. According to a report in The Herald,
the party is fully expecting to lose around 30 of the 40 seats it currently holds in Scotland
, all of them to the SNP. Even this seems optimistic, given that
one poll has predicted the SNP will win all 59 Scottish seats
. The reality is probably somewhere in between.
A complete rout of Labour would obviously mean the end of the party in Scotland, a generational shift. Even if Murphy does hang on to his seat, the SNP could still mischievously use what I call the panda analogy. The current joke goes that there are more giant pandas in Scotland (two, at Edinburgh Zoo) than Conservative MPs (one, in the Borders region). This is because the Conservatives were wiped out in the 1997 general election and have only regained one Scottish seat since then.
So will history repeat itself on Thursday night? Will the SNP be able to use the panda analogy for Labour this time? Watch this space.
Tags for all blogs :
Comments or opinions expressed on this blog are those of the individual contributors only, and do not necessarily represent the views of FRANCE 24. The content on this blog is provided on an "as-is" basis. FRANCE 24 is not liable for any damages whatsoever arising out of the content or use of this blog.