Thu, 05/10/2012 - 19:05
French presidential elections: drawing a blank
Having now just about recovered from the excitement of covering the French elections, I would simply like to point out that France's new president, François Hollande, did not actually win 50% of the vote. Yes, I know, he got 51.64% of the votes…of those who chose one of the two candidates. But those French citizens who either cast a blank or spoilt ballot totalled a considerable 5.8% of eligible voters, or over 2.1 million people. This gap is also much wider than the difference between the votes for Nicolas Sarkozy and François Hollande (over 1.1 million). Not that 51.63% was ever a whopping victory to begin with.
All this certainly puts Hollande's victory into perspective. But I'm being a little unfair on France's president-elect. Back in 2007, the presidential run-off was also close, with Nicolas Sarkozy elected with 53.06% of "the vote". At that election, there were 4.2% of blank or spoilt ballots.
How do I know all this? Because the French interior ministry publishes the figures on its website. But voting blank is not officially recognised in France; it is only counted together with the spoilt ballots (so that it is impossible to know how many there were of each). In other words, the 2.1 million voters who went to all the trouble of going to the polling station just to reject both candidates - for whatever reason - do nothing to change the outcome of the election, since their votes are not taken into account.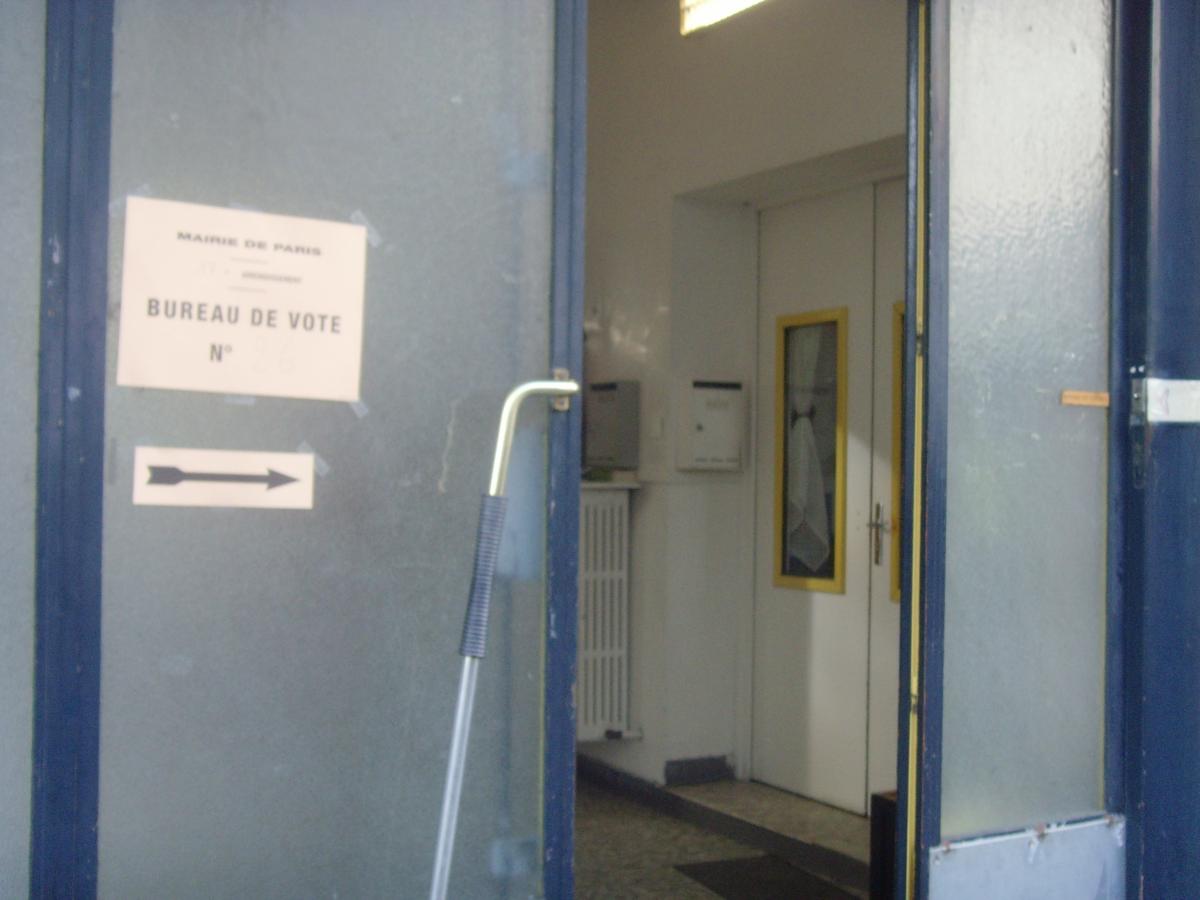 A polling station in Paris' 17th district. Over 2.1 million French citizens cast a blank or spoilt ballot in Sunday's presidential run-off. Photo: Caroline Clarkson.
The existence of all these blank or spoilt votes can seem a paradox, compared with a relatively high turnout rate of just over 80%. Some of those who cast a blank ballot on Sunday no doubt followed far-right leader Marine Le Pen, who announced that she herself would be doing just that, having no time for either Sarkozy or Hollande. But this does not explain everything.
The French certainly seem increasingly jaded when it comes to their politicians. On Sunday, both the abstention rate and the number of blank or spoilt ballots were up on the last presidential election in 2007. There is now even a "Blank Vote Party" which - you guessed it - wants these votes to be officially recognised, and for an election to be annulled and rescheduled if the proportion of blank votes exceeds 50%. It plans to field candidates at the upcoming parliamentary elections in June in a bid to reach these goals.
The subject is even entering mainstream political debate. Centrist leader François Bayrou recently promised a referendum on recognising blank votes, among other reforms, if he were elected president. Nicolas Sarkozy, reacting to Bayrou's proposal just weeks before losing the elections, said he saw no reason why blank votes should not be recognised. "You cannot tell someone who makes the effort to go and vote that you don't recognise his vote, he told the website of 20 Minutes. There is no such thing as a good vote and a bad vote". A position quickly dismissed by the "Blank Vote Party". "Why wait until the eve of the election to propose a reform he could have begun five years ago?" they groaned on their Facebook page.
Tags for all blogs :
Comments or opinions expressed on this blog are those of the individual contributors only, and do not necessarily represent the views of FRANCE 24. The content on this blog is provided on an "as-is" basis. FRANCE 24 is not liable for any damages whatsoever arising out of the content or use of this blog.