Fri, 08/12/2011 - 22:29
After the UK riots: from fightback to firewall?
After the violence, the official response. Thursday saw British Prime Minister David Cameron speak for the third day in a row following the worst riots to hit London and other British cities in decades. Addressing an emergency session of the House of Commons, he again promised to be firm with those found guilty of "criminality pure and simple".

Perhaps inevitably, since this was the third time Cameron had spoken in as many days, he repeated himself a few times, notably by talking about a "fightback" against the rioters and looters. (Fightback? Is that actually a word? It sounds to me like something George W. Bush would say, and we all know what a way with words he had).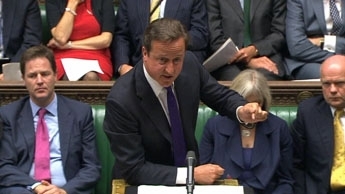 British Prime Minister David Cameron addresses MPs on Thursday

But what caught my attention the most listening to Cameron's speech to Parliament - while putting quotes into the ticker - was his announcement that the government would look at ways to stop suspected rioters communicating with each other via social networks. Now unless you've been living on another planet for the past few days, you'll know that social media like Twitter, Facebook and in particular BlackBerry Messenger (BBM) seem to have been instrumental in allowing the rioters and looters to organise themselves. Cameron said that the government was "working with the police, the intelligence services and industry to look at whether it would be right to stop people communicating via these websites and services when we know they are plotting violence, disorder and criminality".
There are various interpretations of what exactly Cameron means, and obviously it is all still under discussion. Some interpret it as nothing less than a threat to temporarily block access to a platform such as BBM across all or part of the country. This is exactly what the MP for the riot-stricken Tottenham area of London asked BlackBerry manufacturer Research in Motion (RIM) to do in a desperate plea on Tuesday. (RIM promised it would "assist" the authorities, without going into more detail). Another possibility, and a more likely one in my opinion, is that those convicted of inciting the recent violence by using social networks could somehow be prevented from using them in the future.

In any case, Twitter users were quick to pick up on Cameron's words and bemoan the double-standard they risk setting for authoritarian regimes who have recently been no stranger to such, well, censorship themselves. Cameron "will now be the most cited reference by all despots clamping down on social media", regretted one Syrian activist. "Remember folks, it's okay if the West does it," joked Middle East commentator Sultan Al Qassemi.

Indeed. But authoritarian regimes have already had great fun the past few days. China was one of the first to react to the riots, raising doubts over the safety of London's 2012 Olympic Games (the Chinese had to put up with similar comments prior to the Beijing Olympics in 2008). Iran's foreign ministry spokesman then appealed to the British police to exercise "restraint", while President Mahmoud Ahmadinejad later called on the UN Security Council to intervene, seemingly with a straight face. But it was Libya who had the last laugh. Muammar Gaddafi's deputy foreign minister called for David Cameron and his government to step down, since they had "lost all legitimacy".

You have to see the funny side.
Tags for all blogs :
Comments or opinions expressed on this blog are those of the individual contributors only, and do not necessarily represent the views of FRANCE 24. The content on this blog is provided on an "as-is" basis. FRANCE 24 is not liable for any damages whatsoever arising out of the content or use of this blog.